What We Can do in the LED Lights Product?
Many friend always ask me, I plan to build a LED product line. can you give me a total solution of LED Bulb and any suggestion.
I always say: of course, we can give you a suitable LED solution, but we can't not do everything.
For example, LED Bulb include Screw Head, Led driver ,Housing, LED, Cover, as the picture.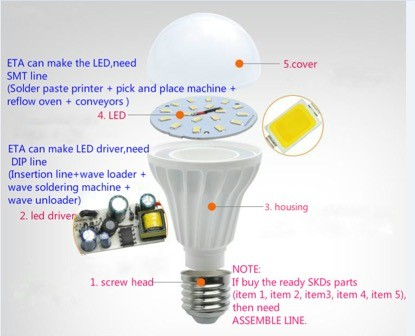 Let's talk about our equipment. We can provide SMT line ,DIP line and assembly line, peripheral equipment include aging line, colorimeter test system, laser printer etc.
1.SMT line is used for LED(As the picture of point 4).Mounting the LED chips on to the PCB board. we have semi-auto or full -auto SMT line which you can choice. this step is important, if you want to save money on that line, you will always find the defective product finally. btw,
High quality lead-free

reflow oven

,

reflow soldering

, reflow soldering oven, SMT reflow oven, soldering oven, IR reflow, SMD soldering machine, for SMT LED production line.
❙

USA Customer LED Model Production Line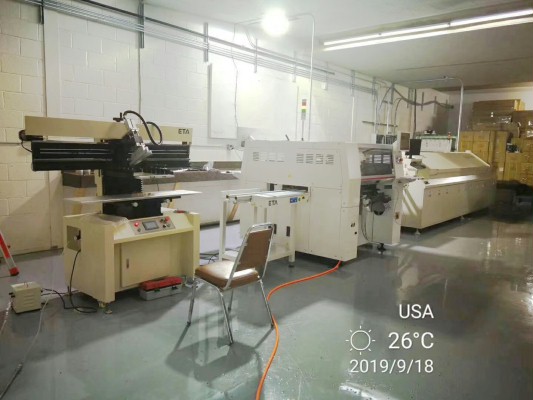 2.DIP line is used for LED driver(As the picture of point 2). it for solder the insert component on to the PCB board.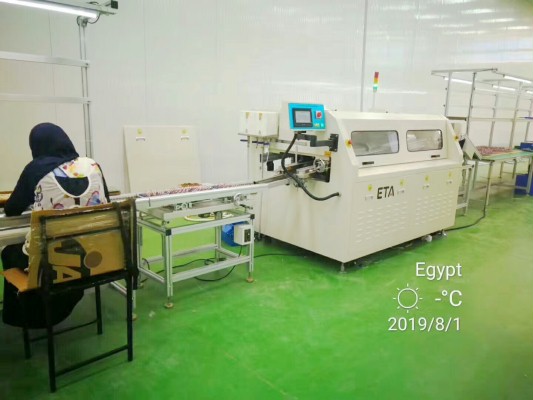 Maybe many people are not professional on this field. They not understand why this step cannot be produced on SMT line? Every time i will introduce again about the different from surface and insert component.
3.Assembly line we have full auto line and manual line. This is subject to your financial and personnel costs .
4.Except the normally equipment, you should need Aging Line, The LED Bulb need to aging many minutes, so that it can be confirm it is qualified.
If you want to promote your brand ,the laser printing machine is necessary. You can print your logo on the bulb main body. Different between the inkjet printer, the ink won't stay too long above the bulb.
Of course, you need any other equipment on the LED product line, We may be not professional on that, but on SMT and DIP line field, we have high quality and good after-sales service. Our engineers who have more than 20 years experience are our treasure.
❙
SMT Production Line - Reflow Oven