Content
I.C.T LV Series Vacuum Reflow Oven Machine
I.C.T LV Series Vacuum reflow oven unparalleled heating performance and temperature control system meets the requirements of various
welding processes, LV Series Vacuum Reflow Oven is high-end reflow products committed to keeping up with market demand to enhance
customers competitiveness.Its new design concept fully meets the needs of increasingly diverse processes, And considering the future direction
of the industry, entirely suitable for communications, automotive electronics, home appliances, computers and other consumer electronic
products .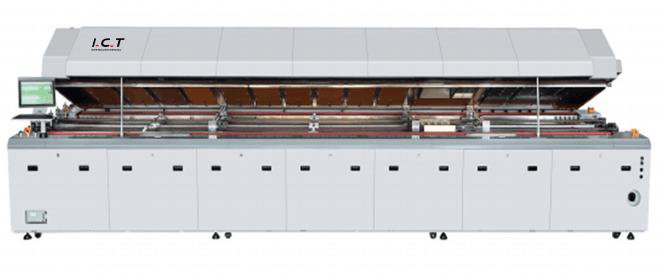 1.Control System: PC + Siemens PLC control system,accurate temperature control and more stable,ensures temperature stability rate to be
more than 99.99%.
2.Vacuum system:PCB directly enters the vacuum unit from soldering area. Start the vacuum process to reduce the vacuum pressure to
100mbar-5mbar. The internal gas such as pores and cavities overflows from the molten solder joint, which can reduce the void rate to less
than 2%.
3.Hot air system: first-class heating module, the best temperature zone interval design makes optimum temperature uniformity and repeat.The
effective utilization and thermal compensation efficiency,it needs less than 20 minutes from temperature control accuracy ± 1 ℃ ambient
temperature to a temperature stabilization .
4.Monitoring Software:Windows interface, traditional and simplified Chinese and English online free switch, and operator password
management, easy to operate.Operation records, temperature curve measurement and analysis functions, virtual simulation, fault
self-diagnosis, process monitoring, automatic generate and save process control documents, substrate transport dynamic display.

From zero to 240 °C due to optimized heat transfer
Each product has its own requirements in the manufacturing process. Optimized heat transfer over the entire soldering process is the basis for
best possible results.
The LV-Series offers flexibly controllable preheating zones within which your PCB is preheated and prepared for the actual soldering process.
The individual zones can be controlled independently of each other via fan frequency, and assure best possible processes.
The LV-Series is equipped with special nozzle sheets for optimized heat transfer by means of uniform air flow over the PCBs. Flow speeds in the
upper and lower heat zones can be separately controlled, assuring that your PCB is heated up.
LV Series Vacuum Reflow Oven
I.C.T-LV733

I.C.T-LV733N

DIMENSIONS AND WEIGHTS

Dimensions

7000*1430*1530mm

Required area

10.05m2

Weight

ca. 3200 kg

ca. 3300 kg

Load per unit area 400 kg/m2

400 kg/m2

PROCESS CHAMBER HEATING

Length of heating zones

3730mm

Quantity of preheating zones

7

Length of preheating zones

2675mm

Quantity of peak zones

3

Warm up time

ca. 20 min

VACUUM ZONE

Vacuum maximum pressure

0.1-12kpa

Vacuum pump flow

1500/min

Pressure relief time

≦10S

Product time

≧40S

COOLING ZONE

Quantity of cooling zones

3(top 3/bottom 3)

Length of cooling zones

1460mm

CONVEYOR

Transport Level

900 ±20 mm

PCB Width

L500 - W400mm

Conveyor control

3-stage, independent control

Conveyor Number

1

Adjustable conveyor speed

300 - 1800 mm/min

INTERFACES

Type

SMEMA

Voltage supply

5-Wire System 3P,N,PE 380 VAC ± 5 % 50 Hz Other voltages upon request

Connected load

65KW

Operating capacity

16 KW

As the operating efficiency depends on the settings of the process parameters, the values reached actually can differ from the values indicated here.
Q: What we can do for you?
A: Total SMT Machines and Solution, professional Technical Support and Service.
Q:Are you a trade company or a manufacturer?
A: OEM & ODM service are available.
Q: What is your delivery date?
A: The delivery date is about 35 days after receipt of payment.
Q: What is your payment terms?
A: 30% deposit in advance and 70% balance before shipment.
Q: What your main customers?
A: Huawei,Foxconn,Vtech,Sumida,Kemet,Vishay,Bosch,Canon.
A: Leading SMT Supplier in China; Trade assurance to USD 560,000+; Professional after-sales service team.